Downtown Commuter Guide
Getting Around Downtown: Parking Guide & Map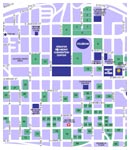 For over 15 years, RideFinders has provided area commuters, businesses and organizations with our Downtown Commuter Guide, a guide to parking facilities and parking rates in the downtown area.
It has been our pleasure to provide this resource gratis to our community and to those visiting the downtown area. Due to the continuing change of the downtown landscape it has become necessary to discontinue the guide. Effective December 1, 2016 RideFinders will no longer publish the Downtown Commuter Guide on our website.
THE QUICK LINK TO YOUR LOCAL COMMUTING CIRCLES.
Carpools, vanpools, buses, biking, walking- Discover more about the Commuting Options available to you. Park n' Ride lots offer you the flexibility to show you all the places you can park your car for FREE and take the bus into downtown or meet your carpool and vanpool. Find out how far RideFinders' vanpools travel throughout Central Virginia in our Service Area Map. And browse interesting local Links to find out how connected you are to the community when you commute with RideFinders.
---