Telework. There's No Place Like Home.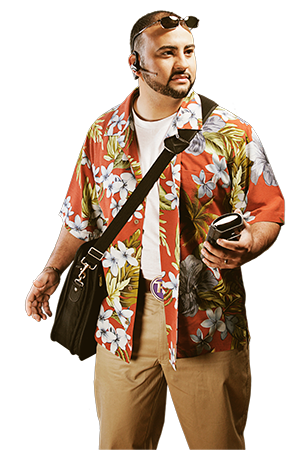 Meet Telework Tech
Telework Tech is the wise crack'n computer and tech expert of the team who, with his collection of Hawaiian shirts, is truly the definition of the word "relaxed". When he is not on the clock, he can be found surfing the net, updating his online blog, or playing video games. He is the member of the team most likely to be late to a meeting at headquarters, or fixing chocolate chip pancakes during a conference call. Although he likes to play, Tech is a genius and his contributions to the team are extremely valuable; he is a whiz when it comes to putting Telework programs in place and making them work.
Teleworking means working away from a central workplace, either at home or another alternate work location, all or part of the week. A telework program gives selected employees and managers the option of working off-site on a full-time, part-time, or even temporary basis.
How formal or informal your telework arrangement is depends on your company and employee needs. Some teleworking arrangements require nothing more than a phone line, while others involve a full home office setup. How simple a telework arrangement is depends on the company's business needs.
CONTACT US: RideFinders, in partnership with the Virginia Department of Rail and Public Transportation, is your teleworking and commute resource not just during these changing times, but all the time. We can help businesses interested in starting or expanding a telework program. Please contact our Account Executives directly: Brigitte Carter – Brigitte.Carter@ridefinders.com or John O'Keeffe – John.Okeeffe@ridefinders.com or call 804-643-7433.
Benefits of Teleworking:
Productivity. According to the International Telework Association and Council, on average, teleworking yields a 22% increase in employee productivity.
Continuity. A key component in developing a business continuity plan in the event of bad weather, a pandemic, or any other crisis that closes the central office location for any period of time.
Sustainability. Enhanced green business practices with fewer cars on the road.
Quality of life. Enhanced work/life balance.
Click here to read individual company case studies:
Girl Scouts
Synergy Systems
UMFS
RMC Events
The Presbyterian Outlook
TecAccess

RideFinders serves as a resource center for program development at employer sites. In partnership with the Virginia Department of Rail and Public Transportation, RideFinders also provides technical assistance to employers who are considering the establishment of a telework program or for those employers who already have informal telework programs. For more information, call RideFinders at 804-643-7433 or 800-693-7433.
Help RideFinders show Central Virginia that alternative transportation works!