Be a Ridesharing Hero Today.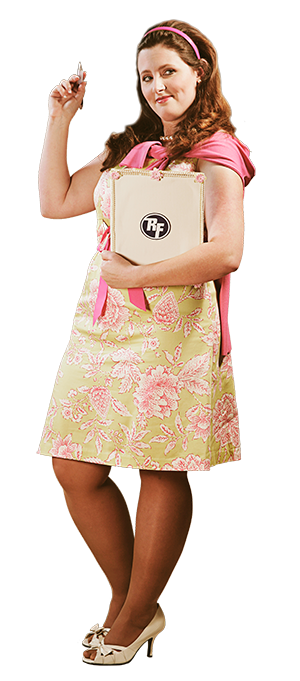 Meet Mrs. Match
One of the four founding members of Team RideFinders, Mrs. Match is a master at matching people to carpools and vanpools. Working closely alongside Commander Carpool to lay out strategic plans for the group, this clipboard-carrying, organization-driven, slightly conservative rideshare expert excels at registering folks for Team RideFinders. Despite her match-making abilities on the job, Mrs. Match finds that she oftentimes has a hard time fitting in. While her organization skills may sometimes border the extreme, Mrs. Match always seems to be on step ahead of everyone else and is always on her game when it comes to ridesharing.
Ridesharing saves you money and time while helping save the environment. Commuters have a variety of options to help keep more money in their pockets. Smart choices like carpooling, vanpooling, walking, riding your bike and riding transit (GRTC) or Petersburg Area Transit (PAT) service) are great ways to save money, improve air quality, and mobility throughout the region.
Advantages of Ridesharing:
Economical. Carpooling, vanpooling, and riding the bus are great values and in most cases, cuts commuting costs in half.
Eco-Friendly. Walking and riding your bike reduces your carbon footprint and provides great health benefits.
Convenient. No need to worry in a case of emergency. The ConnectingVA Ride Home Reward Program offers you a safety net. If you are not eligible for the ConnectingVA Ride Home Reward Program, then the RideFinders offers the Emergency Ride Home (ERH) program in the event of an emergency or you have to unexpectedly work late.
Flexible. Rideshare one day, three days, or every day. You choose the option that fits your lifestyle.
Use the cost calculatorSM to estimate your potential rideshare cost savings.
CLICK HERE to keep up with the latest news, updates and information.
---
Heroes Wanted. Save. Reduce. Protect.
You have choices in how you commute in and around the region. Click the links for more details, find out how unleash your inner hero.
Carpooling helps beat gridlock! Carpooling offers greatly flexibility to accommodate your individual lifestyle even if you don't have a car! There are many options to choose from: short or long term carpooling or 2 or 3 days a week. To find a carpool partner, register online, or call (804) 643-RIDE for more information.
Vanpooling never looked so good!
Vanpooling is the perfect solution to saving more money instead of driving alone, meeting new friends, and relaxing on your way to work. RideFinders can help you form a vanpool by bringing together at least seven (7) people to share the ride and commuting cost to and from work.
RideFinders can also provide information on current vanpools. To find or start a vanpool: register online, view our current vanpool listings, or call RideFinders at 804-643-RIDE or 800-693-RIDE.
Try Transit.
Taking transit is a great money saver and helps save the environment! You can even ride your bike to bus stops and bring your bike along for the remainder of their ride! GRTC buses are equipped with bike racks for public use. For more information on planning your next transit trip, visit GRTC's trip planner.
RideFinders assists commuters with GRTC Transit System and GRTC Connector Services transit information.
Telework
Teleworking means working away from a central workplace, either at home or another alternate work location, all or part of the week. Let teleworking work for you!
RideFinders partners with the Virginia Department of Rail and Public Transportation to serve as a resource center for program development at employer sites; provides technical assistance to employers who are considering the establishment of or expanding a telework program. For more information, or call RideFinders at 804-643-RIDE or 800-693-RIDE.
Bike and Pedestrian Commuter Services
RideFinders supports commuters who bike or walk to work with the Emergency Ride Home (ERH) Program and safety clinics, and distributes the Employer/Employee Biking to Work Guide. RideFinders partners with the Virginia Department of Rail and Public Transportation and various organizations to host bike education classes and special events and provides bike-related information and bike reflectors to area schools.
Help RideFinders show Central Virginia that alternative transportation works!