Award-Winning Organization
RideFinders is an award-winning progressive Transportation Demand Management (TDM) organization having received a myriad of awards spanning from trip reduction, commuting initiatives to marketing campaigns from regional, national, and internationally recognized organizations such as the Association for Commuter Transportation (ACT), the Chesapeake Chapter of ACT, the Environmental Protection Agency (EPA), Communitas Awards and the Richmond Chapter of the Public Relations Society of America (PRSA).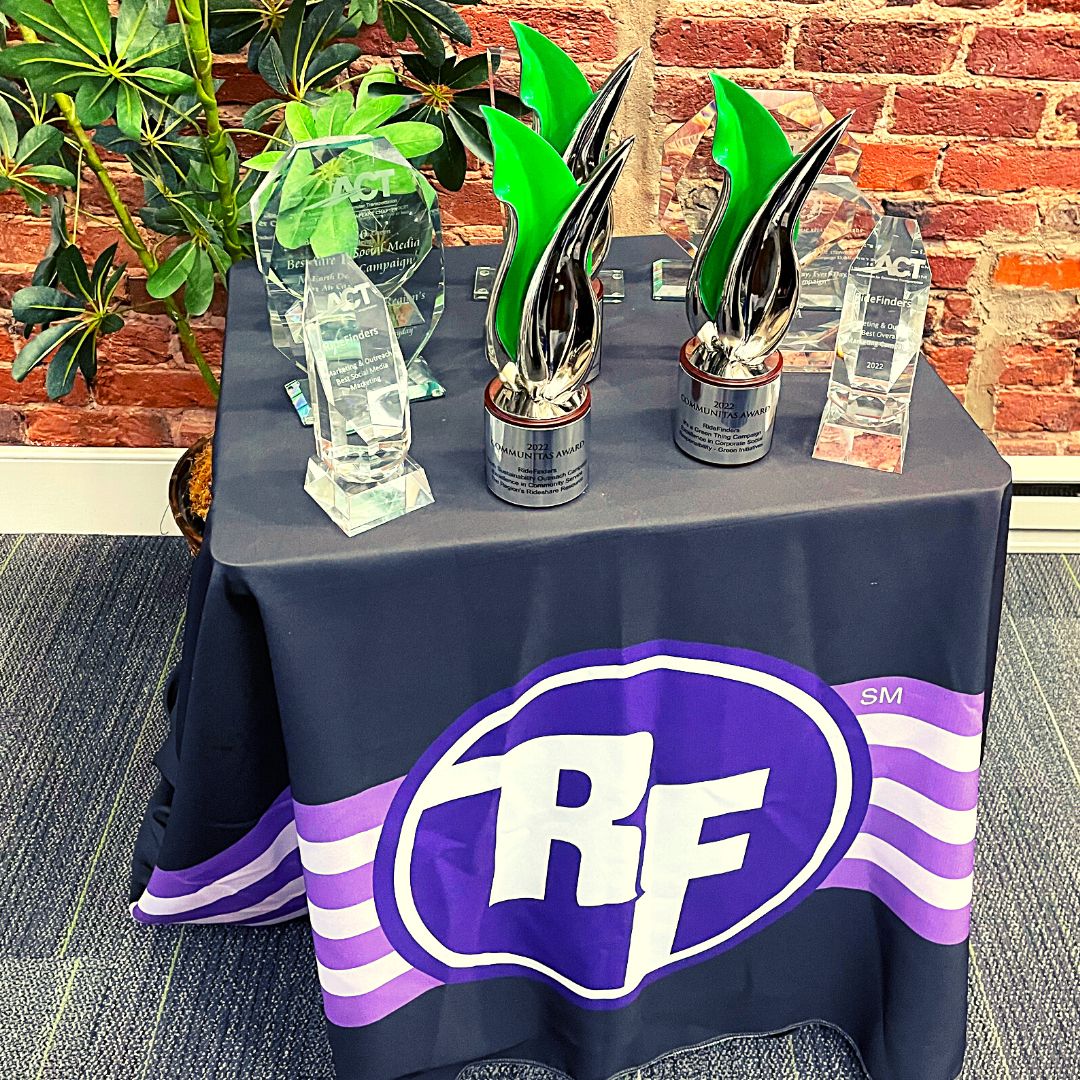 We are committed to delivering cost-effective commuter services solutions, encouraging regional transportation participation, providing sustainability resources and creating results-driven marketing campaigns to help reduce emissions, improve air quality and positively affect our region. Our staff remains agile in addressing community and business needs through a strategic, thought-provoking, and innovative approach. It is RideFinders' hope these actions will contribute to making Central Virginia a great place to live, work and play while demonstrating a brand that visually communicates the organization's growth, evolution, and turn-key ability to adapt to cultural, economic, and environmental changes.
Thank you to the community, our partners and stakeholders for their continued support: GRTC Transit System, PlanRVA, the Richmond Regional Transportation Planning Organization (RRTPO), the Crater Planning District Commission, Tri-Cities Area Metropolitan Planning Organization (MPO), the Virginia Department of Rail and Public Transportation, the Virginia Department of Transportation, the City of Richmond, Chesterfield County and Henrico County.
Current Awards:
2022 Association for Commuter Transportation (ACT) National Best Social Media Marketing Award category (Marketing and Outreach) for the "Ways We Go: Youth Sustainability Outreach" Campaign
2022 Association for Commuter Transportation (ACT) National Best Overall Marketing Campaign category (Marketing and Outreach) for the "It's A Green Thing" Campaign
2022 Communitas Award, Excellence in Community Service for the "Youth Sustainability Outreach" Campaign
2022 Communitas Award, Excellence in Corporate Social in the sub-categories of Ethical and Environmental Responsibility and Green Initiatives for the "It's A Green Thing" Campaign
2021 Chesapeake Chapter, Association for Commuter Transportation (ACT), Best Grassroots Marketing Campaign for the "It's A Green Thing" Campaign
2021 Richmond Chapter of the Public Relations Society of America, Award of Merit - Shoestring budget $5,000 or less Category for the "Celebrate Earth Day, Every Day" Clean Air Campaign
2021 Association for Commuter Transportation (ACT) National Best Social Media Marketing Award category (Marketing and Outreach) for the "Celebrate Earth Day, Every Day," Clean Air Campaign
2021 Communitas Leadership Award, Community Service and Corporate Social Responsibility Category for the "Celebrate Earth Day, Every Day" Clean Air Campaign
2020 Chesapeake Chapter, Association for Commuter Transportation (ACT), Best Online/Social Media Marketing Campaign, for the "Celebrate Earth Day, Every Day" Clean Air Campaign
2020 Association for Commuter Transportation (ACT) National Commuting Option Award -Vanpooling for the "Fall in Love with Vanpooling" program