Grand Prize Winner Announced
Sep 11, 2018
We extend a hearty congratulations to Brianne M. who was randomly selected as the Grand Prize winner in the New Member category. "I ride transit because I care about my impact on the environment in Richmond. I'm doing my part for RVAgreen 2050 – the city's commitment to reduce our community's carbon footprint 80% by 2050. I also love the added benefits of not having to worry about or pay for parking, being able to read or listen to music, relax during my commute, and saving on gas and car maintenance. To top it all off, RideFinders rewards me for my sustainable commute," Brianne stated.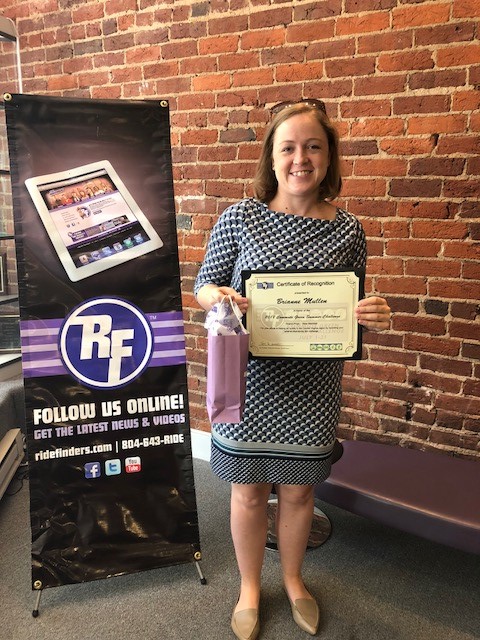 We encourage Brianne and all of you to continue to ride the bus, carpool, vanpool, ride your bike, walk and telework to help make a powerful impact on the environment! The 2018 Commuter Green Summer Challenge winners are:
• Debbie H. – Grand Prize Winner, existing member
• Brianne M. - Grand Prize Winner, new member
• Jayson P. – weekly prize winner
• Wendy T. - weekly prize winner
• Thomas K. - weekly prize winner
• Emily M. - weekly prize winner
The First Annual Commuter Green Summer Challenge, held this past July, encouraged the region to use sustainable transportation like carpooling, taking transit, vanpooling, biking, walking or teleworking to help reduce traffic congestion and help air quality. The collective efforts of participants resulted in 6,014 greener trips during the challenge!